Sukin Display stand
CNC cut from plywood. Designed for Flat-pack transport and assembly in store. Logo cnc routered into side panels. Minimal finishing on timber for a very cost effective, natural looking display.
Red Earth at Emporium, Melbourne. Tester panels router cut from Corian and digitally printed for High-end, sheer finish.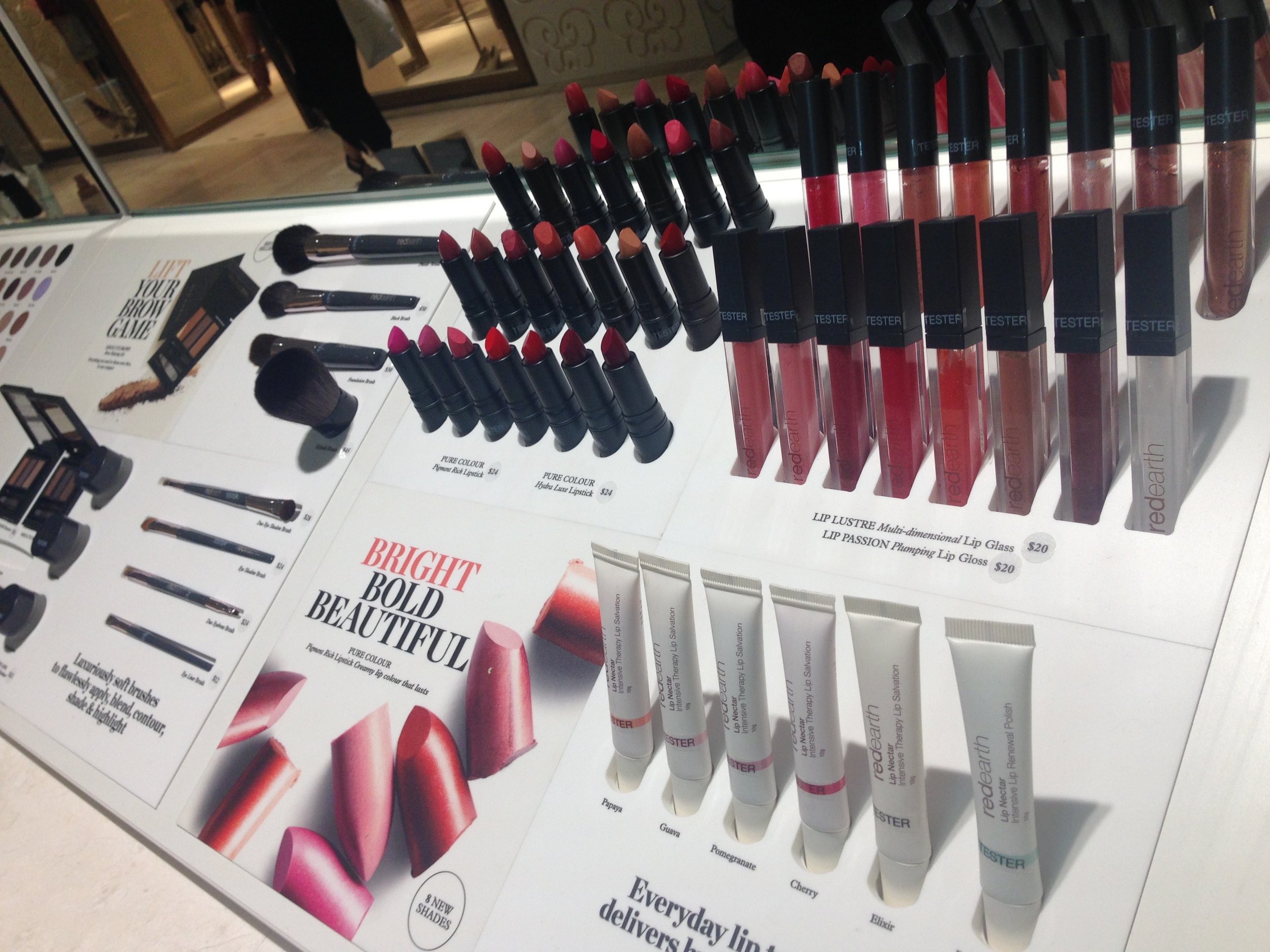 Red Earth
Digitally printed and cut Corian tiles
Wine stand - flatpack
CNC cut from plywood. Simple graphics screen-printed or CNC cut on side for "crate" aesthetic. Back panels may be placed at 3 depths, allowing one / two or 3 crates to be displayed, without appearing empty.
Natio colour table
Rounded steel ends offer a great island display. 360 degree access with a massive, inviting stock holding. Interchangeable vacforms and lasercut acrylic panels hold smaller colour ranges on the rounded ends. Storage drawers underneath.
Dragon sunglass stand
Fabricated metal and acrylic. Lighting in side pillars illuminates logo on outside as well as onto interior acrylic shelves.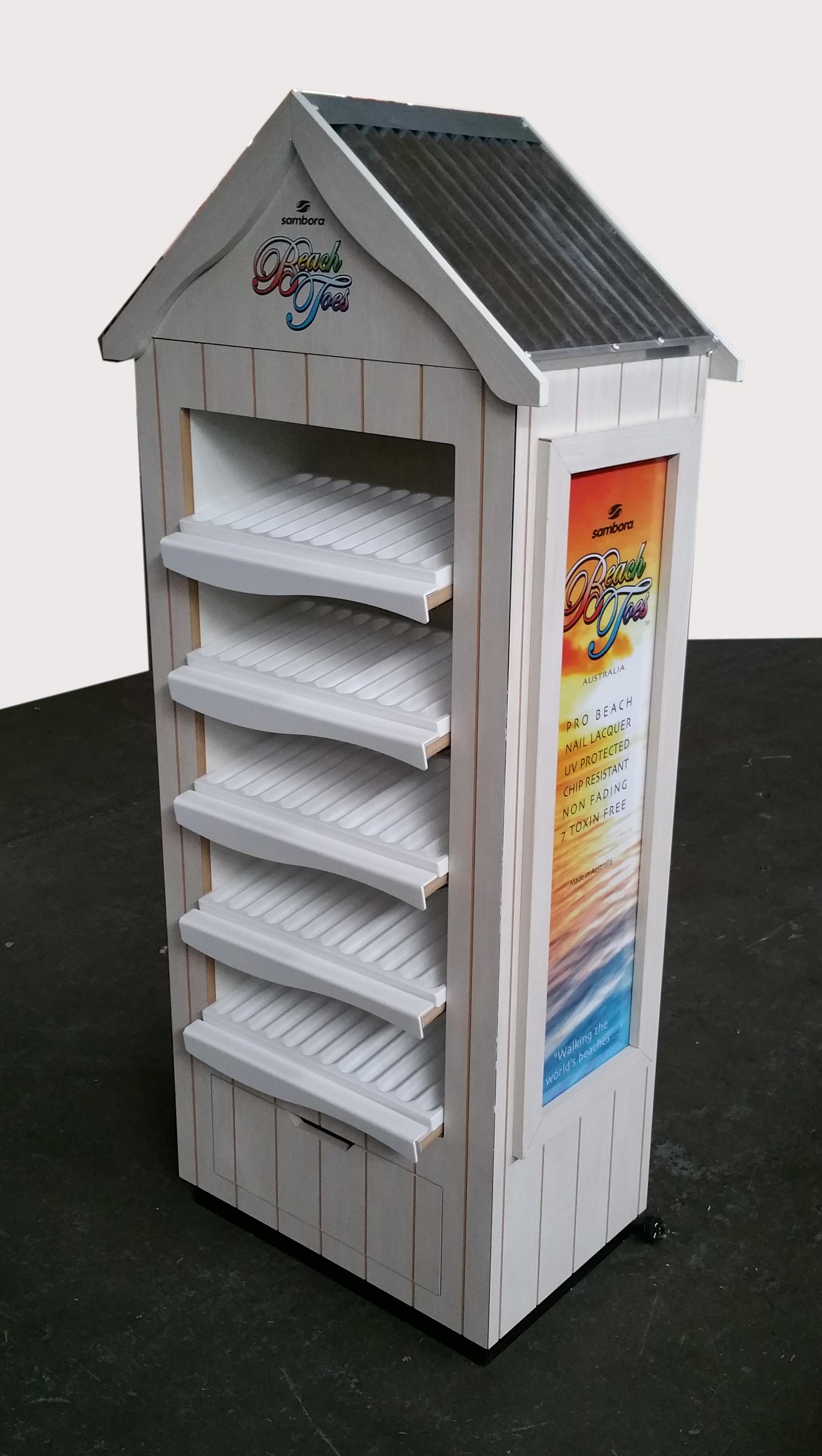 Beachtoes Nailpolish display
Beach hut themed display constructed from routercut and stained ply. Illuminated poster holders. A standout nailpolish display with stock access from both sides.
Body Collection floorstand
Compact steel construction on castors, perfect for pharmacies. Interchageable curved graphics on sides. Lasercut double-sided acrylic header. Clear vacforms hold stock neatly on shelves, useful for keeping product stable when wheeling this display out to prime position each morning.The overall feeling is light and bright, with through visibility.
Recycling station
Recycling stations for Stonnington City Council. Ply construction with removable plastic tubs inside. Lockable hinged door. Digitally printed graphic panels.
Sugar baby floorstand
Steel construction with matt custom colour powdercoat, vinyl upholstery, and vacform shelves. Printed double sided mirror. Lockable castors.
Referencing '50s boudoir furniture, this display is certainly eyecatching and inkeeping with the branding of this range.
Chick floorstand
Unique packaging was one of the key features in this brand. The display features the packs in a futuristic looking, compact floorstand. Packs drop feed and roll-feed in clear modules that clip on to the central column. Textured rubber finishes on the fascia mimmic the internal products. The logo is lasercut into the steel center column.
Berhaus hangsell floorstand
A simple construction from sheet metal. Flatpacked for assembly in store.
Goss Rotunda
360 degree shoppability. Interchangeable lasercut acrylic shelves. Wedge shaped steel lightbox.
Pioneer Display system
Fabricated from Composite sheet, anodised aluminium and timber. This modular system incorporated a halo of light around the panels as well as facilitating the wiring and mounting of high end audio-visual goods
Coldroom shelving
A modular steel system developed for stock shelving or coolrooms.
Cougar promo trolley.
Developed alongside a promo with toolbox giveaways, this stand had the aesthetic and robustness of a tradies toolbox. Fabricated from gal and powdercoated steel.
Cinema floorstand
Cinema floorstand, constructed from Steel and Laminate is easily redressed with graphics
Grab - textured wall
Moulded, textured tiles for a "Grab" store in store fit-out
Grab wall tiles and feature box
Vacformed wall tiles, some incorporating the Grab logo, were finished with textured paint. Used in combination with signage for store-in-store fitout.
Coral colours gondola
Steel construction, with storage drawers, castors and interchangeable side graphics. Injection moulded dividers and vacform tester trays used for shelf management.
Flatpack Plywood floorstand with castors and storage underneath. Shoppable from both sides. Logo screenprinted directly on the sides. Interchangeable header card locates in slots.
Maxfactor mascara spinner
Steel construction with vacform insert panels. 360 degree rotation. Heavy on education to target the product segment.
Feast watson timber sampler
Steel floorstand with hinged leaves. Vacform inserts house up to 36 panels, each with 4 finishes. A compact, high quality display used in hardware retailers.
bonnebell Freestanging floorstand
Hangsell display cubes, with ample space on each for educational graphics defining each range.Timber body with steel and plastic inserts. T5 flood lighting used.
Maxfactor hatch 3 wall infill
A sophisticated implementation of shelving system including LED lighting, injection moulded shelf components, fabricated and vacformed components and transparent shelf graphics. Configured variously to be housed in timber carcasses to suit retailer specifications. A nationwide rollout of this system involved planogramming, logistics, and a high volume of complex work. 1300+ stands were manufactured and installed over a 6 month period throughout DDS stores in Australia. We are following through with ongoing maintenance, updates and new stores.
Chi Chi gondola
Steel frame with lasercut acrylic shelf inserts. 2 pack sprayed pink edge details.
Princeton Tec hangsell floorstand
Steel Sheet construction for hangsell stock, flatpacked for transport. 3d moulded head on top to feature head lamp.
Covergirl infill
Naitonwide rollout and ongoing maintenance to over 1200 outlets. Robust adjustable steel shelf system inside timber carcasses. Flood lighting behind. LED spot light and illuminated "hotspot" Combination of hangsell and engineered trays with push feed, gravity feed and roll-feed components.
Camoflage Colours floorstand
Timber and composite construction to hold range of nail and eye products.
Private Formula wall unit
Steel construction with screen printed clear acrylic side fins
Maxfactor tester table
Steel and timber construction with interchangeable acrylic tester panels
Stella concept
Steel trolley with interchangeable side graphics
Maxfactor wall unit
Nationwide rollout from 2005 - 2009. Steel modular construction of body allowed for compact transport of body. Steel adjustable height shelves. vacform insert product trays.
Private Formula Gondola
Steel construction, with illuminated graphic pillars on each end.
Stuf floorstand
Metal floorstand with vacform shelves and interchangeable graphics. Storage drawers underneath. 600mm wide
Klara Cosmetics Coles infill. Features etched backlit charcoal mirror, LED lighting, Tester panels with security retraction devices. Push feed stock trays from steel and acrylic.